13 Jul 2021
Investments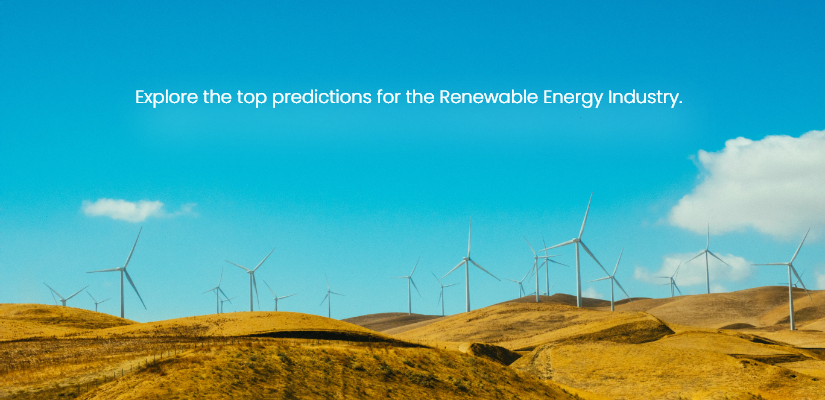 TOP RENEWABLE ENERGY PREDICTIONS THAT WILL HARNESS  
THE POWER OF GREEN TECHNOLOGIES AND BEYOND 
The global renewable energy market witnessed its first-ever decline in two decades in terms of progress due to the crisis magnified by the pandemic in 2020. The gap and void that the global crisis in socio-economic, businesses, and production has now let open increasing demands for sustainable energy, growth, and innovations. Experts predict that the renewable market across the globe will grow from $184.3 billion in 2020 to $226.1 billion in 2021. It shows that the renewable industry will capitalize on the new demands that various industries must meet to sustain growth and build resilience in such a way that they will overcome indescribable losses that they have gone through. 
Here are the pain points that have given a massive momentum for the renewable sector growth:
Investor inclinations shift due to reducing oil and gas production 

 

Organizations looking to create sustainable job-creation policies 

 

The outcry for accountability in corporate and government establishments 

 

The need for lowering costs on necessities like power

 
 Predictions that keep the renewable energy industry in a solid position to take momentum to the next level: 
The possibilities and opportunities that the renewable energy sector is helping it leverage its popularity post the market's reset in a post-pandemic scenario. With the pace at which innovations and growth of global economies, the renewable market becomes the best option to rely upon. As per the latest survey by Pew Research, the results deliberate the fact that the renewable energy market has greater acceptance and popularity.  
79% of respondents believe that renewable energy sources will play a significant role in sustainable growth if it gets its due consideration.

 

84% of people accept policies like carbon taxes.

 
Governments leading green energy expansion

 
The collaborative approach to increase the capacity of more renewable energy is helping governments focus on green jobs creation, allowing new technological developments, and helping support green energy producers with a reduced tax burden. The year 2020 has accelerated new possibilities for better and clean energy resources development and initiatives. Governments are in a way leading the new revolution in the renewable energy domain. 
Better investor mindset 

 
Enterprises in various corporate businesses and oil and gas establishments are incorporating inclusive strategies to support and contribute their efforts to bring about a sizable transformation.  
According to the International Energy Agency (IEA): 
Auctioned renewable capacity has set a new record of 15%

 

Solar companies' shares have doubled

 
Technology disruptions in the renewable energy sector 

 
Sustainable green architecture helps support the rising demands of clean energy and sustainable growth. By 2027, the green design market is anticipated to grow almost 9% every year. The development means that commercial buildings will have to focus more on maximizing efficiency in their design to achieve better outcomes. 
Final word: 
Increased emphasis on green technologies, policies, and corporations' investment plans will help make the roadmap for the future readiness of the renewable energy industry. It is the way forward for governments and enterprises to bring about a sustainable future and growth. 
Rivar Group is an ardent believer in sustainable growth and development. The group helps provide technological and strategic investment opportunities to drive growth. If you are looking for the right solutions on improving the efficacy of renewable projects, you can rely on Rivar Group's extensive capabilities and industry expertise. 
To know more about how Rivar Group offers enterprise value to innovative companies, book a meeting.